Book Now
4 star country house hotel nr Chester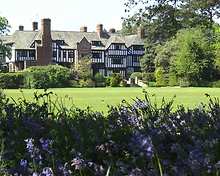 Inglewood Manor Reviews





10 reviews Member since 2010
Ledsham, South Wirral, Cheshire, CH66 8PF
Customer service:




Rooms:




Restaurant:




Location:




Value for money:





10 reviews
, sorted by
Date

| Rating





Anon,
stayed: July 2017
Show more...
"Inglewood manor"





Julie P Wigan,
stayed: March 2017
We booked a one night dinner bed & breakfast package for ourselves & our parents to celebrate their 50th wedding anniversary. The package included afternoon tea. We were really impressed with the hotel grounds. We had a lovely greeting from Haydn on reception who couldn't be more helpful. He even arranged some extra padding for my parents bed & came & made the bed himself. The afternoon tea was amazing & enormous, we were really impressed. The evening meal & restaurant was lovely & the quality & presention of food was excellent but the portions were a little small. We asked for more vegetables & a generous quantity of extra vegetables was provided instantly with no extra charge. Breakfast was a bit disorganised & there were no menus on the table but again it was lovely when it came. Overall we would recommend the hotel & the staff are extremely friendly & helpful & every single member of staff made us feel very welcome.
"A very relaxing weekend in a lovely Country House Hotel"





Stephen S, Swansea,
stayed: March 2017
A well located hotel between Chester and Liverpool allowing us to explore the North West. An old country house which has had a modern twist and with very good food in terms of quality and price. We had the afternoon tea on arrival which was excellent. Well worth a visit.
"Christmas Break"





Anthony, Cheshire,
stayed: December 2016
My wife and I enjoyed three nights here over Christmas. It is a comfortable well appointed country hotel with very friendly staff. The grounds are extensive and it was easy to get in to Chester. For the elderly or infirm it is worth pointing out that parking immediately outside the hotel entrance is limited but there is an overflow car park that requires a short walk. We were late booking and were allocated the topmost room. There is no lift and we found the flights of stairs a bit of a challenge.
"Relaxing Christmas break"





CW, North Yorkshire,
stayed: December 2016
My husband and I stayed at Inglewood Manor for a Christmas break. This was the first time we have ever stayed away at Christmas and we were a little apprehensive, but we needn't have been. From the moment we drove up to the gorgeous hotel and saw the twinkling Christmas lights and welcoming roaring fire, Christmas music and decorations we had a good feeling. All staff were so helpful and always willing, to touches such as board games in the cosy wood panelled lounge and a gift outside our room Christmas morning made our stay special. The grounds were lovely to walk around and food provided was excellent. Lovely quiet location too, about 15 minutes from Chester. The only negatives were that the bedroom could do with an update but I understand they are starting to do this and the overflow dining room for Christmas day lunch was seriously lacking atmosphere. We had asked to be seated in the executive wood panelled room but were informed that this was not possible, which was such a shame. However, overall we had a lovely stay and are hoping to return in the future to stay in the oak room which looks amazing!
"Lovely hotel"





Keith, Northamptonshire,
stayed: August 2016
A really nice characterful hotel set in lovely grounds which was well looked after. The reception area is full of character with friendly staff to greet you. Our room and bathroom were spacious, well thought out and with a lovely view of the garden. We bought the package which included champagne and fondue, and considered the deal was one of the best money deals we have experienced,made memorable by the helpful and cheerful staff. The restaurant meals were excellent and also good value. Would we stay again? Yes please any time.
"Stay at Inglewood Manor end of June 2016"





KH, Dyfed,
stayed: June 2016
On arrival the reseptionist was very helpful and pleasant. The room was a little small and was in need of redecoration though totally adequate and functional. The grounds and bar were very good. The evening meal on the first night was a delight. As was the meal on the following evening.
Breakfast was unremarkable one particular waiter needed to be dismissed his attitude left a lot to be desired.
Overall it was a pleasant stay.
"Relaxing break"





MA, northumberland,
stayed: June 2016
Wonderful hotel in luxurious surroundings. Quiet and peaceful although near to Chester and area.
Food is amazing and staff could not be more attentive. Would love to stay here again.
Other UK hotels that may be of interest
| | | | |
| --- | --- | --- | --- |
| | Nr Halifax | | |

Secure online booking
You can book any hotel break through our secure online booking system.
If you have any queries please check our FAQs. We accept the following credit and debit cards: