Book
Now
4* Luxury Country Spa Hotel in Kent
Member since 2011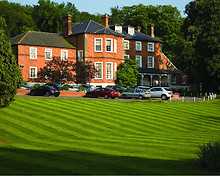 Brandshatch Place Hotel & Spa Reviews





17 reviews Member since 2011
Fawkham, DA3 8NQ
Customer service:





Rooms:




Restaurant:




Spa:





Location:




Value for money:





17 reviews
, sorted by
Date

| Rating

"Wedding Anniversary"





Simon F, Kent,
stayed: May 2018
The visit was for our wedding anniversary. Had a lovely time and a nice surprise to receive a room upgrade. Would definitely visit again.
"Fantastic!"





Jodie, Kent,
stayed: January 2018
Has restored my faith in British hotel service. All staff were friendly, attentive and welcoming great
"My stay with you August 3rd to 4th."





Gill H, Kent,
stayed: August 2017
Whilst the car park was fine, I found the reception area dark and unwelcoming. My friend and I were then shown to a twin bedded room with no views as the windows were opaque - presumably to hide the view of the rather ugly flat roof tops beneath. The receptionist kindly organised another room for us which was better but it was so noisy that neither of us could sleep. The evening meal was lovely but my friend had allergies and the entree fish which was a consomme, had something in it which didn't agree with her and she had stomach ache all night. At breakfast the next morning, we were told we couldn't sit at a window table as it was laid up for dinner. My friend ordered mushrooms and by the time they arrived, the toast was cold so we had to order more toast and then the mushrooms were cold. There was no yogurt available at breakfast time. Whilst the evening waiter had been very professional, we didn't find the breakfast waitress to be so.
"An excellent stay"





Debbie, Surrey,
stayed: August 2017
Lovely hotel and staff were so helpful and friendly. The receptionist actually walked us to our room and checked all was to our satisfaction before we put our bags down! Service at the hotel was exceptional and the food was very good. We were the last to leave the restaurant and the staff were in no rush to move us on, in fact our pudding was returned to the kitchen after it was checked over before service (we actually saw them do this). It would have been easier for them just to deliver the chocolate fondant and we probably wouldn't have noticed it being a bit flat, but they insisted only the top quality food was to be served. Real five star service at this hotel. Spa was also lovely (particularly the jacuzzi and steam room!). I would strongly recommend this hotel if you want relaxation at a top class hotel.
"Excellent experience"





JH, Kent,
stayed: May 2017
My stay here was one I would strongly recommend. I first stayed in March and was very impressed with the hotel, how welcoming and peaceful it was. For the first time in a long time I didn't want to leave at the end of my break. The restaurant offered excellent food and service and me and my family were really made to feel special. The bedrooms were excellent with everything catered for in style and the grounds were beautiful.... I have already booked to go again!
"Relaxing break"





GQ,
stayed: March 2017
Thoroughly enjoyed the stay. The breakfast staff were excellent, i think one was Earnest, but they made the stay for us. Generally everyone seemed very accommodating and the hotel felt very relaxing. Gym facilities were excellent, unfortunately we were not able to use the spa, closed early on the Monday
Strongly recommend to anyone





Anon,
stayed: November 2016
Show more...
"Very disappointing"





Anon,
stayed: September 2016
Nothing to commend this hotel, certainly compared to others in the group - poor room, indifferent food, poor ambience - staff acceptable generally but nothing special
Other UK hotels that may be of interest

Secure online booking
You can book any hotel break through our secure online booking system.
If you have any queries please check our FAQs. We accept the following credit and debit cards: