Book
Now
Iconic luxury castle in the heart of Devon's Dartmoor National Park
Member since 2014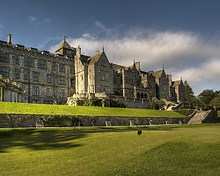 Bovey Castle Reviews





64 reviews Member since 2014
Dartmoor National Park, Devon, TQ13 8RE
Customer service:





Rooms:





Restaurant:





Spa:





Location:




Value for money:




64 reviews
, sorted by
Date

| Rating

Page 1 2 3 4 ... 8 Previous Next

"Worth a visit"





Becky, Bath,
stayed: March 2019
Bovey Castle is more than a stay it is an experience. If you want to experience 5stars then you would not be disappointed here. The staff are friendly, welcoming and very customer focused. The attention to detail and the small things like checking your room is ok makes a huge difference. Though it is expensive to stay there is no snobbery and the atmosphere relaxed. Give it a go spoil yourself.
"My Stay"





Peter, Oxfordshire,
stayed: March 2019
A most enjoyable short break at this excellent hotel. Food first class. Staff very friendly. Room excellent. Lounges luxurious. Only one minor warning of zero mobile phone coverage.
"Dartmoor Hideaway"





FM, Hampshire,
stayed: March 2019
We booked this hotel through Saturday Telegraph Travel and found it exactly as described. A little remote with exciting rural road approaches especially in wind and rain but relaxing on arrival. Staff responded to being spoken to especially in " Smiths".
"A restful couple of days"





Katherine, Dorset,
stayed: February 2019
We were looking for a couple of relaxing days away from day to day life - and certainly found that at Bovey Castle. The walk along the river was beautiful, the pool was peaceful and the room was very comfortable. And the bed was lovely!
"Perfect weekend!"





Anon,
stayed: January 2019
What an amazing weekend we've just spent at Bovey Castle for my 40th Birthday. Beautiful surroundings, food, drink and service, which all exceeded our expectations. I just wish we could have stayed longer. The staff were attentive, happy and nothing was too much trouble. Thank you to everyone there for making my surprise weekend so special and memorable, we can't wait for an excuse to come back.





Anon,
stayed: January 2019
Show more...
"Romantic anniversary celebration"





KB, Devon,
stayed: January 2019
What a fabulous place for a romantic celebration. We were well and truly spoiled - fantastic setting, relaxing pool and sumptuous tasting dining experience. Wonderful. Thank you!





Anon,
stayed: January 2019
Show more...
Other UK hotels that may be of interest

Maidencombe, South Devon

Nr Kingsbridge, Devon

Secure online booking
You can book any hotel break through our secure online booking system.
If you have any queries please check our FAQs. We accept the following credit and debit cards: