Book
Now
Iconic luxury castle in the heart of Devon's Dartmoor National Park
Member since 2014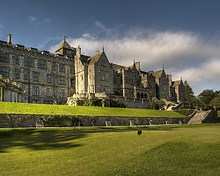 Bovey Castle Reviews





42 reviews Member since 2014
Dartmoor National Park, Devon, England, TQ13 8RE
Customer service:





Rooms:




Restaurant:





Spa:





Location:




Value for money:





42 reviews
, sorted by
Date

| Rating

Page 1 2 3 4 ... 6 Previous Next

"We enjoyed a great stay!"





MG, Wiltshire,
stayed: June 2018
A lovely hotel in a stunning location, with a very friendly atmosphere. The staff could not have been more helpful, friendly or attentive. Great attention to detail in every respect. The food was tasty & well presented. Our castle room was excellent with glorious views. We enjoyed our stay so much, we booked an extra night!
"Relaxing break"





Anon,
stayed: June 2018
We were booked in for 3 nights and enjoyed our stay immensely. The whole stay was made an enjoyable and pleasant experience by the welcoming and helpful staff. We hope to come again.
"Special break"





AB, Surrey,
stayed: May 2018
Had a wonderful break at Bovey Castle in May. Beautiful weather. Staff were welcoming and attentive. Hotel very comfortable. Room excellent..requested a quiet room. Restaurants were first class as was the food. Unusually we never left the hotel such was the level of interest and activity (golf! ) . Golf
professional and staff were great. Very helpful. Course was in immaculate condition.
"We'll be back"





C, Berkshire,
stayed: May 2018
The hotel is lovely ,set in beautiful grounds.
We all really enjoyed our stay . The staff were excellent and we were made to feel very welcome.The rooms were comfortable and well decorated. It is not a cheap break but you do feel it is special.
We have been on several long breaks but I have to say this was one of the best.
We will be back.





Anon,
stayed: May 2018
A warning that there was a spend limit to the evening meals in the advert would have been helpful, this was taken off when I explained that I had not been warned. A 'discretionary charge' (tips) of 12.5% is added to the bill. My built-in wardrobe was in the en suite, not a problem although I personally do not like that positioning, BUT the rail was so high I needed a step ladder to hang my clothes up as I was on my own. Extremely helpful housekeeper did her best to solve the problem.
"Would Not Go Back"





Anon,
stayed: April 2018
We booked via the Sunday Telegraph offer and thought it sounded pretty good value. However, by the time we left after three days, it cost double. Our first room was so noisy that we had to be moved. The second room was at the back and rather gloomy with no view at all, but the size was OK. The second and third night we did not get fudge in our room or sloe gin and it felt like we were forgotten at the end of a long corridor. The wine in the fine dining room was so expensive that we only had one glass. And we did not know that our dinner allowance was so low that it barely covered the cost of the main course. Plus service charges on top of everything.
The hotel was lovely with beautiful furnishings and comfy lounges. If you have money to throw around, go to Bovey Castle.





Anon,
stayed: February 2018
Show more...
"Noisy room"





LW, Dorset,
stayed: February 2018
Stayed for 2 nights. Booked Castle Room (29) but were kept awake the first night due to a fan being left on in the kitchen, just below our room. We were told this should have been switched off at 10pm. We were moved into another room the next day, which was smaller but with lovely views. However we were not offered any form of compensation for this inconvenience (even a complimentary drink with our meal in the restaurant would have been a nice gesture).
The service in the Great Western restaurant was excellent, but meal in the brasserie was rushed.
Other UK hotels that may be of interest

Maidencombe, South Devon

Nr Kingsbridge, Devon

Secure online booking
You can book any hotel break through our secure online booking system.
If you have any queries please check our FAQs. We accept the following credit and debit cards: