Book
Now
Iconic luxury castle in the heart of Devon's Dartmoor National Park
Member since 2014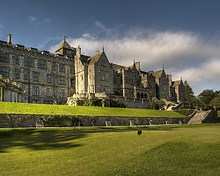 Bovey Castle Reviews





56 reviews Member since 2014
Dartmoor National Park, Devon, TQ13 8RE
Customer service:





Rooms:





Restaurant:





Spa:





Location:




Value for money:




56 reviews
, sorted by
Date

| Rating

Page 1 2 3 4 ... 7 Previous Next

"Lovely hotel let down by poor restaurant operations"





Anon,
stayed: December 2018
We stayed as a family at Bovey Castle for three nights in Dec 18. The hotel is set in a stunning location on Dartmoor and staff are helpful and attentive. The spa and swimming pool are lovely and meant that activities were not restricted by bad weather. The hotel room was cosy and well appointed, with nice touches of local sloe gin and cookies on arrival. Room staff were also pleasant and helpful when we had questions.
Overall this hotel would have had a 5 star review but for the terrible service and food quality in the Brasserie, which were 1 star at best. Despite large numbers of waiting staff, and an almost empty restaurant, our starters took over 40 mins to arrive, and main courses well over an hour. Staff were mainly chatting and joking with each other, rather than paying attention to guests. The food, when it eventually arrived, was bland and insipid. The childrens' menu was particularly poor - our burger was inedible and had to be sent back.
Food in the Great Western (fine dining) restaurant was much better but service was still extremely slow and could be vastly improved. It was disappointing to see such a fine hotel with excellent front of house teams let down by poor restaurant management. I would return only if the food operations were put under new management. Overall poor value for money.
"Two night break"





Phil M, Wiltshire,
stayed: November 2018
Two nights mid week as a get away. Wonderful experience, staff excellent and food in the Great Western very good.
Quite expensive but we enjoyed our time there. A relaxing break
"Beautiful setting"





JJ, Gloucestershire,
stayed: November 2018
Very welcoming. Reception rooms very cosy & comfortable with roaring fires. Bar areas well staffed & very attentive staff. Lovely walks around the hotel & golf course. Bedrooms spacious & well equipped, nice touches, sloe gin & Nespresso machine.
"Just what was needed"





K Surrey,
stayed: October 2018
Needed a luxury break and that is exactly what we got. Super room, coffee sloe gin nuts etc toiletries towels all great in the room.
Ambience in general welcoming and relaxing. Loved the book of walks that was available- and we used it!!
The extras like the falconry display were a delight.
Would love to come keep offering good deals then we can come again
"Enjoyable Autumn Break at Bovey Castle"





Anon,
stayed: October 2018
Lovely hotel set in the rolling lush hills in Devon. Impressive drive up to really welcoming hotel where nothing appeared too much trouble and my car was whisked away and our luggage taken to our room. Meals were good - although could have been better and we had to send one course back on the first night as it was undercooked. Breakfast was nice - good choice but not overly generous compared to other 5* hotels I have stayed at over the last few years - the chef could do a good poached egg though and I have found that rare. We did a number of activities and used the spa - all were great but not cheap. The biggest thing that annoyed me was the endless service charges they add to EVERYTHING - including 10 per night for the room. It isn't a cheap hotel but adding another tenner on each night to the room made it more so - it also doesn't go directly to the staff you might want to reward. Their website says that they make it clear that the service charge is discretionary but they certainly never mentioned this to us at any point. Would I stay again? Possibly - it was luxurious, hospitable and relaxing - just felt a bit overpriced and that they were aiming to get as much as possible from you. 30 odd to feed the deer was a bit steep in my opinion!





PT, Hampshire,
stayed: September 2018
Impeccable service throughout.
"September 2018"





Silver fox cambs,
stayed: September 2018
Our 3rd visit sadly not all five's that we have given before but still a very relaxing experience
"Lovely weekend in a beautiful hotel"





MR, Middlesex,
stayed: September 2018
Other UK hotels that may be of interest

Maidencombe, South Devon

Nr Kingsbridge, Devon

Secure online booking
You can book any hotel break through our secure online booking system.
If you have any queries please check our FAQs. We accept the following credit and debit cards: