Book Now
Four red star luxury hotel in Buckinghamshire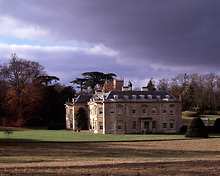 Hartwell House & Spa Reviews





42 reviews Member since 2006
Nr Aylesbury, Buckinghamshire, HP17 8NR
Customer service:





Rooms:





Restaurant:





Spa:





Location:





Value for money:





42 reviews
, sorted by
Date

| Rating

Page 1 2 3 4 ... 6 Previous Next





Anon,
stayed: February 2018
Show more...
"A great place to visit if you love living history"





LC, Surrey,
stayed: January 2018
My Wife and I had a fantastic time here. The staff are all extremely good at what they do, knowledgeable and friendly. Food was great too.
"Fabulous"





Anon,
stayed: November 2017
Hotel was fabulous as was our room. The spa also and position second to none. Food not so good but am sure that was just a blip. Will certainly return
"Wonderful stay"





Anon,
stayed: November 2017
Our stay was wonderful in every way. It was my husband's birthday and we were upgraded to the Queens bedroom which was magnificent. Everything was beyond our expectations.
"Luxury Break"





Anon,
stayed: November 2017
I ve always wanted to stay in a National Trust house and here's that very opportunity!
Roaring fires, exquisite furnishings, comfortable rooms and stunning food in a beautiful dining room. Felt like you were treated to the courtesy and attention of a bygone era. Would love to go again. Thoroughly recommend.
"Wonderful escape."





AB, Greater London,
stayed: October 2017
Beautiful grounds, and lovely hotel. So close to London but felt like another world. Great relax, felt very at home. Style is grand and perhaps a bit chintsy, but all as it should be in such a place. We stayed in the stable block which was great for pool access in our dressing gowns! Pool and steam room lovely too. No treatments had. Food and wine superb.
"Perfect for Celebrations and Pampering, becoming an annual tradition!"





Joanne B, Bucks,
stayed: October 2017
This is a 2nd visit for celebrating my daughter's birthday and it was even better than last year! The staff were friendly and super helpful with my mobility issues. The spa staff were professional and extremely competent. My aromatherapy massage was really uplifting. The pool and spa facilities were excellent, my only regret was that I did not coincide my booking with the great pool exercise class that runs 3 times a week. The dinner was sumptuous, cocktails mixed perfectly and wine pairings were skilled. Breakfast was equally as delicious and I wanted to stay longer. We will definitely be back, well done to all the staff for making us feel so looked after.
"Very pleasant friendly helpful staff. I requested a tea tray for our room and itarrived immediately."





June B, Hampshire,
stayed: October 2017
We attended an aqua fit session and used the swimming pool which was very clean and well maintained. My daughter had her nails manicured, but didn't get her 20% discount even though she mentioned it, apart from that every else was execellent.
Other UK hotels that may be of interest
| | | | |
| --- | --- | --- | --- |
| | Oxfordshire | | Ashdown Forest |
| | Beds | | Lower Beeding, Nr Horsham |

Secure online booking
You can book any hotel break through our secure online booking system.
If you have any queries please check our FAQs. We accept the following credit and debit cards: